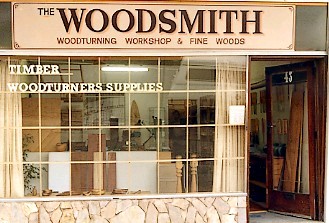 The Woodsmith Pty Ltd  a unique Australian family owned  business, established by Len and Jean Smith in 1980, to teach the craft of woodturning.
We now provide the following quality goods and services…  
Rare Timbers – Rustin's Wood Finishes & Hot Stuff Glues
By MAIL ORDER Only
The Woodsmith Pty Ltd,
Melbourne Victoria.
Some History of The Woodsmith Pty Ltd
Mid 1970's French Polishing & Woodturning.
Len Smith learnt & practiced Woodturning and the art of French polishing as part of his interest in restoring Antique furniture.
Len started furniture restoration & French polishing from his home workshop for private customers & carried out work for Antique shops, using his polishing skills & woodturning to make replacement parts when required.
Some of the many pieces of Antique Furniture Len repaired & French Polished
During the 70's Woodturning.
Len continued woodturning developing a fine touch to produce fine quality one off pieces, selling his turnings at markets & supplying craft galleries, & various annual exhibitions of crafts.
Below a small selection of the many turnings Len turned in the early 70's –
1980 The Woodsmith business began…
Len & Jean Smith started The Woodsmith
Len teaching woodturning from his home workshop.
Jean ably assisting with the business & providing cups of tea & lunches for students.
They began importing & supplying timber, tools & accessories for Len's students.
Started obtaining special craft timbers from Tasmania & other mills around Australia to supply customers with quality timbers.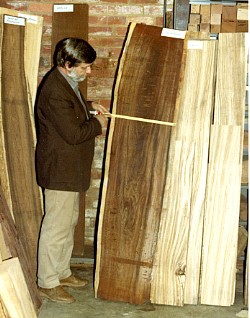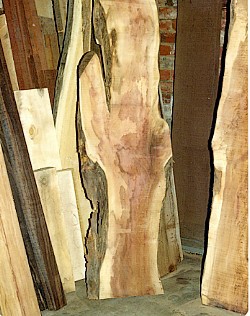 We visited Woodworking Shows in London
1980's The Woodsmith opened their first shop in Ivanhoe Victoria… 
To continue restoring Antique furniture & selling selected Antique furniture pieces. 
A new teaching workshop was set up to expand the woodturning classes.
Started to sell quality Australian made "Tough" Woodturning Lathes 
purchased from WA. 
The Woodsmith led the way in woodturning in Australia. 
Being the First In Australia to:-
Import " High Speed Steel " Turning Tools & Carving Tools from Henry Taylor
Sheffield UK
Import " Quality Wood Finishes from Rustin's Ltd  UK  
(Appointed Sole Australian Importer & Distributor)
Import " Popular high quality Coronet ELF Woodturning Lathes from Coronet Tool Derby UK & Tyme Cub & Avon Lathes from Tyme Lathes Bristol UK
Import " Woodturning, Carving Tools & Woodworking Chisels from 
Robert Sorby Tools Sheffield UK.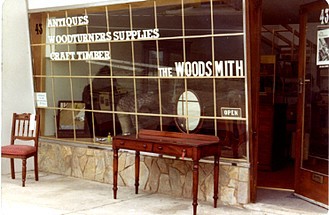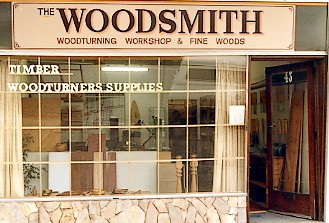 WA "Tough" Lathes & Robert Sorby Tools
"Tyme" Woodturning Lathes imported from Bristol UK
Coronet "ELF" Imported from Derbyshire UK
In the Mid 1980's  We Imported a large selection of Project Accessories for Woodturners. 
We also Specialised  Rare Exotic & English & Fine AustralianTimbers.

We supported the first early Melbourne Woodworking Shows held in the Exhibition Building.
Started the first Melbourne Woodturning Club "The Yarra Turners'. who were all Len's woodturning students
& first meetings were held in our teaching workshop in the Woodsmith's Ivanhoe shop.
Over the years Len has been judge, sponsor or guest demonstrator at many woodturning competitions, clubs & events. 
Len was assistant judge for the first Melbourne Woodturning Competition conducted by the Yarra Turners.