Woods from The Woodsmith Pty Ltd
PLEASE NOTE:– We have listed some of the woods that have been sold by The Woodsmith,
for your information about each species & some of their features.
Many of these woods are scarce or no longer available.
Any we have for sale will be listed from time to time on our Website Sale pages.
AFRICAN BLACKWOOD – East Africa
(Dalbergia Melanoxylon)
Finest of all turning woods, holds detail well. Black, with little or no discernible grain, the wood Clarinets are made from. Grain is straight; fine, even texture and good natural luster.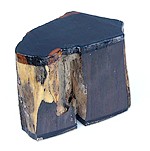 BOCOTE – Mexico
(Cordia geranscanthus)
Yellowish brown with dark brown to almost black stripes. Colour tends to darken with age.
Grain patterning can be quite striking, particularly on flatsawn areas.

AFRICAN BUBINGA – West Africa
(Guibourtia demeusei)
Excellent turning wood.
Colour red brown with red & purple veining, texture coarse but even, polishes to an excellent finish.

HONDURAS MAHOGANY – South America
(Swietenia macrophylla)
Genuine Mahogany from Central South America
Colour – reddish brown.tends to darken with age, texture is medium and uniform, with moderate natural luster.
Turns, glues, stains, and finishes well. Uses – Furniture, turned objects, musical instruments, and carving.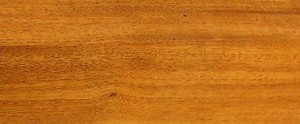 SATINE BLOODWOOD – Brazil
(Brosimum rubescens)
Colour – heartwood is a bright, vivid red, has a fine texture with good natural luster.
Uses: Carvings, inlays, inlays, guitars, knife handles, and turned objects.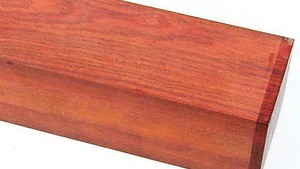 SONOKELING ROSEWOOD – Indonesia
(Dalbergia latifolia)
The same tree as Indian Rosewood, but is plantation grown, resulting in a wider range of colours in the timber.
Colour – Purplish brown, with darker brown streaks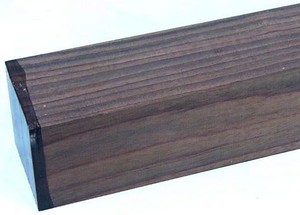 ENGLISH OAK – England
(Quercus robur)
Good for Turning or Carving. Colour light to medium brown, Grain is straight, with a coarse, uneven texture.

COCOBOLO – Mexico
(Dalbergia retusa)
Excellent fine turning wood. Colour rich red with other multicolours, darkens quickly on exposure, hard dense wood, fine texture,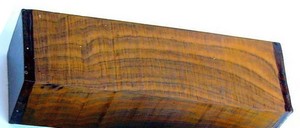 CEDAR of  LEBANON – Mediterranean Region
(Cedrus libani)
Light brown with a pronounced growth ring figure, Light in weight and smooth in texture. The strong and very pleasant fragrance repels and kills moths, hence the traditional use of this wood in wardrobes and for drawer