Woods from The Woodsmith Pty Ltd
PLEASE NOTE:- We have listed some of the woods that have been sold by The Woodsmith, for your information about each species & some of their features.
Many of these woods are scarce or no longer available.
Any we have for sale will be listed from time to time on our Website Sale pages.
BLACKWOOD – African
(Dalbergia Melanoxylon)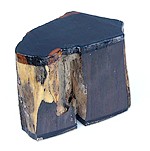 BOCOTE – Mexico
(Cordia Eleagnoides)