In Loving memory of my dear wife Jean who passed away suddenly in April 2014
Jean very much enjoyed watercolour painting and this is one page from her original Website pages…  and shows some of Jean's wonderful paintings.
Len Smith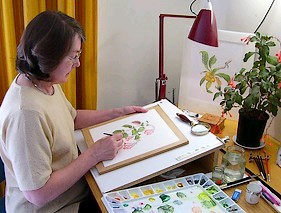 WELCOME to my Gallery of NATURE'S WONDERS
I have always loved flowers, but since starting Botanical Art classes in 2000, I have a new appreciation for the intricate detail and wonderful designs to be found in nature. Prior to this I had only 'dabbled' with watercolour without much success.
Under the guidance of professional artist Terry Napier, I have now learned so much about looking at detail, being aware of the light and trying to portray the 'personality' of a flower, leaf, insect or bird.
The intricacies of nature are so complex. The pleasure of studying a flower in detail and capturing it's beauty in a painting is a joy indeed!
I trust you will enjoy viewing these paintings as much as I have enjoyed creating them
As well as "taking time to smell the roses", we need to "see" the real beauty and amazing detail in every form of nature and do all we can to keep the world around us in good shape. 
Jean Smith