Brief history..
Tough Machine Co originated in WA in the 1960's. Mostly manufacturing farm equipment, they branched out into small woodworking machines. When Len Smith began The Woodsmith back in 1970's, he discovered the Tough brand Woodlathe. one of the most solid and reliable machines of the day. Len started shipping them in from WA and and quickly became the largest re seller of these machines in Australia…Selling them to his turning students and shop customers.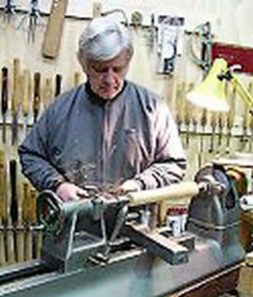 Under New Manufacture
In the late 90's a New model "Woodsmith Tough Lathe" was designed with our own modifications, New Camlock Tool rest, New smooth adjustment levers on Tool rest & Tailstock and made it 5 speeds, with a lower speed range, 350, 650, 1000, 1600, 2400 RPM. New Cast Iron Pulley 5 step machined & drilled for 24 Indexing with the spring loaded Indexing device. and a Poly Drive grooved Belt These were manufactured in our factory in Bayswater Victoria until mid 2000's
The Woodsmith business then took a new direction and lathe production was halted. Lathes and parts are no longer made, we still have a few spare parts in storage and once these are removed and sorted they will be listed on this website.
I still use one of our Woodsmith Tough Lathes for my own turning. Len Smith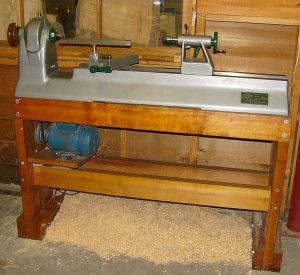 NOTE:- Tough WA made lathes have RED Painted fittings, Newer made "Woodsmith Tough" Lathes have GREEN painted fittings.
Standard model Tough  Lathes have a spanner adjustment for locking the Tailstock & Tool rest saddle to the lathe bed. Later models had the option of Camlocks for both these functions.
Original Lathes were manufactured in Western Australia by F & R Tough Pty Ltd.
Details:-
Solid Cast Iron construction, Bed, Head, Tailstock
Lathe Bed machined cast iron, underneath is drilled & tapped 3/8″ ww for fastening to cabinet, bench or legs.
Headstock –
Solid steel shaft  1.1/2″ diameter runs in deep groove sealed ball bearings,
bored with Number 2MT, 1″ x 10TPI Right Hand / Left Hand threads.
Cast Iron Pulley 4 step machined & drilled for 12 position Indexing with the spring loaded Indexing device.
"A" Section Vee Belt
Tasilstock –
Has self ejecting centre & smooth ball bearing action & cast iron Handwheel,
tailstock shaft bored with Number 2MT.
Specifications –
Maximum Diameter over bed – 12″ (300mm)
Maximum Diameter over gap – 15.1/2″ (400mm)
Maximum Between Centres – 36″ (915mm)
Maximum Outboard turning diameter – 24″ (610mm)
Speeds 4 –  with a 1 hp, 1425 rpm Motor Approx. – 595, 1175,1725, 3400 RPM
Headstock Taper – No 2 Morse Taper
Tailstock Taper – No 2 Morse Taper
Spindle thread inboard – 1″ x 10TPI
Spindle thread outboard – 1″ x 10TPI
Tailstock spindle travel – 2.3/4″ (70mm)
Standard model was originally supplied with,
Cast Iron, LATHE BED, HEADSTOCK, TAILSTOCK.
HEADSTOCK DRIVE CENTRE 4prong with replaceable spur, 
Solid TAILSOCK CENTRE with replaceable spur.
VEE BELT ,matching Cast Iron 4 speed MOTOR PULLEY.
8″ Right Hand FACEPLATE,
6″ & 12″ Cast Iron TOOL RESTS,
TOOL REST BRACKET (Saddle)
SPANNER
OPTIONAL :- "Outboard Turning attachment".